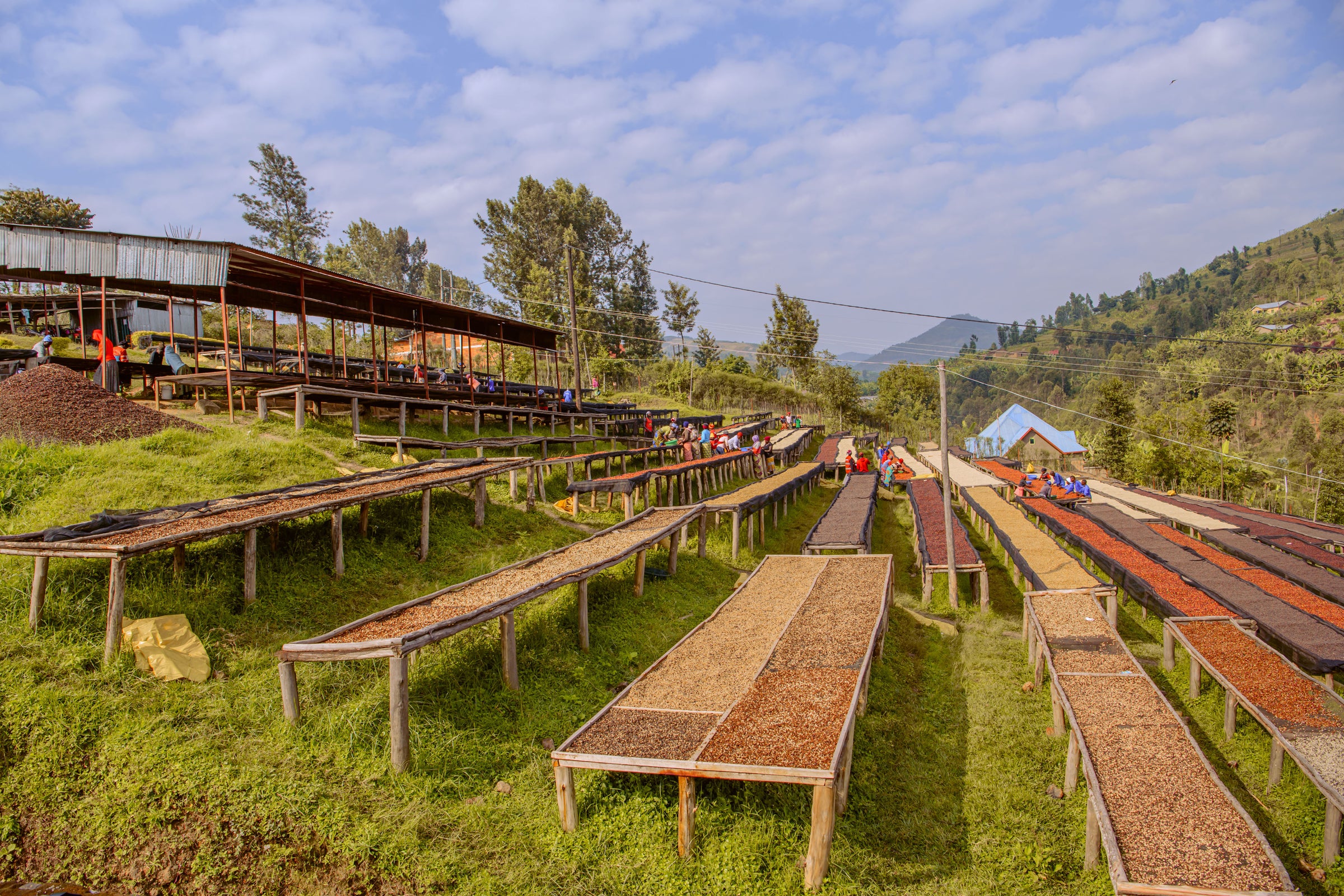 Your office has made the right call in supporting high quality women grown coffee.
We created this website to let you peek behind the curtain to discover more about your delicious daily brew. 
If you want to support our mission to empower women in developing countries, tell your coworkers about our coffee and consider getting it delivered straight to your home. You can read more about our impact on our impact page.
We'd love to hear from you have any questions or comments feel free to send us a message!
Your brew is 100% organic Arabica coffee grown by women in the Gakane district of Rwanda. The coffee is double certified as both Fair-trade and Organic.
This Jura Giga 8Xc is the highest quality machine with loads of options like a new Ferrari. And just like a new Ferrari it takes some getting used to if you want the best out of it. 
There are two options for stronger coffee:
1. Add more coffee to your drink
This is done simply by pushing the right side of the bean bar while your coffee is being poured. This adds more grams of coffee to the drink with 5 beans being 16G of coffee in your cup.
2. Put in another shot of espresso!
Our shots of espresso are full dark roast, with all that rich flavor. So adding an extra shot to your favorite drink will go a long way in giving you the darkness you´re looking for.
At Dash, we believe in quality every step of the way. As such we choose our coffee roaster carefully. We roast every bean on a Stronghold coffee roaster. 
Stronghold roasters are used by the Speciality Coffee Association to roast coffee for international competitions. 
They are also 100% electric. Better for your coffee and better for the planet.
The Swiss made Jura coffee machines are consistently rated as the best office coffee machines with a reputation for high quality and consistent coffee drinks.   
We choose Jura as the perfect compliment to our high quality specialty coffee. Jura coffee machines use a Pulse Extraction Process that is the only process of its kind in the world. It optimizes the extraction time and guarantees the very best aroma even for short specialty coffees.
Coffee is the 2nd most traded global commodity behind only oil. That's  around 125 million people globally depend on coffee for their livelihood. The majority of them live in developing countries and have trouble getting a reliable wage for their work.  
Paying more for coffee ensures that the families growing our coffee will continue to increase the quality of what they provide, while living healthy lives out of poverty.
The inequalities between women and men are greatest in developing countries. Coffee growing, management, and trade has typically been controlled by men, which means they also control the source of money and resources for these rural communities.
The United Nations and the World Food Programme focus on helping women because they often in-turn help their families and the community around them. This has the effect of bringing up the entire community, and overtime, the society.
We only purchase coffee that directly supports the employment, management, and economic empowerment of women. With this increase in economic opportunity, women invest in their children and communities.
Thank you for asking!
Yes. We do everything in our power to ensure this coffee positively impacts the lives of the women farmers and the planet. 
Our coffees are certified Organic and FairTrade. These certifications are not everything, however it gives some base assurances that we can rely upon as there are regular third-party inspections.
The coffees we purchase are supported by NGOs in Rwanda and funds from Bloomberg Philanthropy. These parties also ensure that the farmers are paid well and that sustainable agriculture practices are being maintained.
We roast on an electric Stronghold coffee roaster, which is the current industry standard for quality and sustainability. 
All of our packaging is biodegradable and no single-use plastics are used in production.
The biggest ecological issue with coffee is CO2 released in transporting it from Rwanda to Finland. We´re planning our next step to become carbon neutral as a company. 
Dash Coffee started as a partnership between two humanitarian logistics students from Hanken School of Economics, Kevin Kainulainen and Matthew Kern. 
While talking about the sad state of coffee in Helsinki, they decided that their impact would be best done from Finland by bringing ethical and sustainable coffee to market. You can read more on the Story page.
Yes you can!
Check out our suite of products here and sign-up for a subscription to get one of our coffees once, twice or every week of the month.